Transport module
PM 200FR20
100G/200G FlexRate pluggable Muxponder
Price request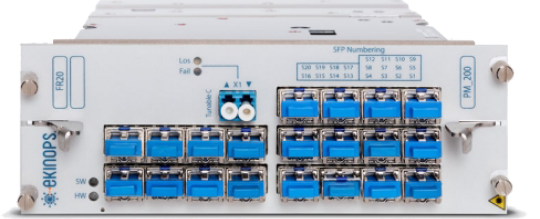 Overview
EKINOPS continues to advance the capabilities of its coherent high-speed modules with the EKINOPS PM 200FR20 that provides flexible line rate functionality to deliver up to 400G of capacity in a single shelf. Using advanced Digital Signal Processor (DSP) technology, the EKINOPS PM 200FR20 supports both the 16QAM and DP-QPSK modulation formats with the software flexibility to select either for a 100G or 200G line rate, depending on your requirements for capacity and distance. In DP-QPSK format, the PM 200FR20 can transport 100G up to 10 000 km but can be used for shorter metro-regional spans as well. In 16QAM format, it can transport 200G up to 1000 km. The EKINOPS PM 200FR20 is also available in a single fiber variant supporting transmit and receive of different channels on the same module over a single strand of fiber.
With this flexibility, network operators can use the same line card for multiple applications no matter what the span requirements are, helping them simplify sparing, streamline logistics and speed ordering and replacement, all of which result in lower operational costs. It also allows the operator to easily double capacity on any link simply by upgrading the existing module. This process can be easily accomplished from a remote Network Operations Center (NOC) using a simple firmware download. There is no need to roll a truck or dispatch a technician to replace hardware or move patch cords.
The module also has a high degree of service flexibility with multiprotocol client support including 10GbE, 8G FC, 10G FC, 16G FC, OC-192/STM-64, OTU2 and OTU2e. The EKINOPS PM 200FR20 supports 20 SFP+ client ports. The module is ultra-compact delivering either 2x100G or 2x200G in only 2RU and highly power efficient. Combining this with ease of operation, unmatched price points and superior performance, EKINOPS makes your choice easy when it comes to coherent transport solutions.
Key Features & Benefits
• Provides 400G of throughput capacity
• Built-in Variable Optical Attenuator (VOA) allows the operator to remotely select the output power level
• Increases fiber capacity by 200%
• Software selectable line side modulation — DP-QPSK or 16QAM
• Multiprotocol support includes 10GbE, 8G/10G/16G FC, OC-192/STM-64 and OTU2/OTU2e client interfaces
• Simplifies sparing requirements
• Compatible with multiple channel spacings — both on-grid and off-grid
• Low cost pluggable client optics 20xSFP+
• Support for up to 88 200G channels
• Small form factor
• Highly power efficient
• Single fiber deployments